Skip to main content
An annuity is a long-term retirement tool that can be a cornerstone of your financial security and success. It can help you protect and grow your retirement nest egg, or you can turn it into guaranteed lifetime income.
Premium
You pay a premium (think of it as your principal) to F&G.
Promise
In exchange for your premium, you receive unique benefits and guarantees from F&G. F&G provides an annuity contract and promises to look after your money.
Policy
Your financial professional will help you select the policy that best meets your needs:
Savings protection and growth potential
Guaranteed lifetime retirement income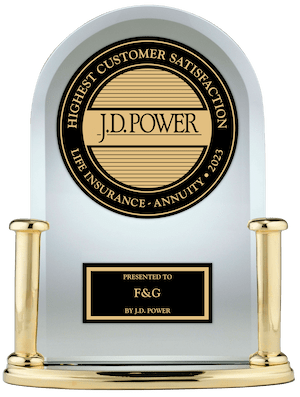 Ranked in customer satisfaction
F&G is ranked #1 in customer satisfaction among annuity providers by J.D. Power, a global leader in customer insights, advisory services and data and analytics.
Policyholders rated us first among competitors in five categories, including product offerings, interaction, statements, price and communication.
For J.D. Power 2023 award information, visit jdpower.com/awards.
What needs do you have?
Do you want to grow your retirement nest egg? Are you approaching retirement and want to turn your savings into income? A combination of both?
We offer a number of products that can provide downside protection, growth potential or guaranteed income for life.
Let's explore which F&G annuity solutions can meet your needs.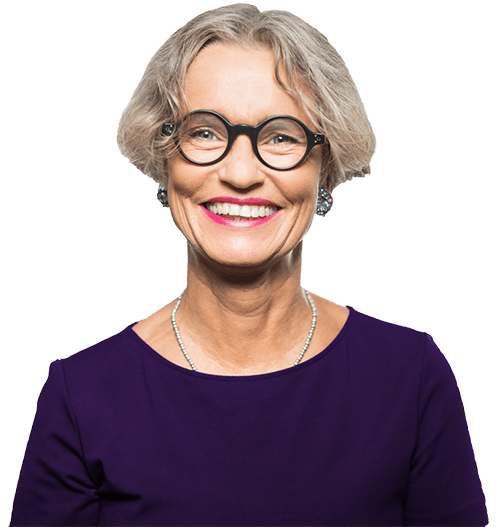 Accumulation
Grow retirement nest egg
Income
Turn retirement savings into income
Multi-Year Guaranteed Annuities
Fixed Indexed Annuities
without GMWB rider*
Fixed Indexed Annuities
with GMWB rider
Looking for a guaranteed rate of return for your retirement savings?
In the prolonged low-interest-rate environment we are in, it can be a challenge to find a guaranteed rate of return that meets your needs. Many Americans are turning to alternative solutions like a multi-year guaranteed annuity (MYGA) to help fill this gap.
A MYGA offers you the opportunity to:
Earn tax-deferred interest on your principal at a fixed rate of return for a certain period of time.
Know your interest rate upfront and that it's locked in during the guarantee period.
Fixed annuities including MYGAs fall under the conservative category of solutions.
Looking for retirement income you can count on?
If you have 5-15 years before retirement, now can be a good time to make sure you're on track and to start thinking about how to turn your savings into future retirement income. Talk to your financial representative about
1.
What income you'll have.
2.
How much income you'll need.
3.
What portion of your income is:
Guaranteed
Protected from market downturns
Built to last a lifetime
That's where a fixed indexed annuity comes in, with income you can always count on.
A fixed indexed annuity (FIA) with a Guaranteed Minimum Withdrawal Benefit (GMWB) gives you a predictable way to build your future retirement Income base for a steady stream of lifetime income — without the risk of actually participating in the market.
How $100,000 could grow in an income-focused FIA
Scroll on the graph to zoom in and out. Drag left or right to pan the graph

This graph assumes no withdrawals are taken prior to the withdrawal of guaranteed income payments.
The Income Base shown above assumes a $100,000 single premium, the single premium grows at a compound interest rate of 7.00% for the first 10 years and 2.00% for the following 10 years.The Income Base growth rate is subject to change for new issues at the sole discretion of the company.
The Income Base is not an amount that can be surrendered or withdrawn.
This hypothetical example is for illustrative purposes only and not intended to be the performance of any specific product.
Looking for protection and growth potential for your savings?
When it comes to your hard-earned retirement savings, does the thought of letting your money ride with the ups and downs of the stock market give you an uneasy feeling? But you don't want to miss out on the sharing in some of the potential gains? A more conservative solution, called a fixed indexed annuity (FIA) may be right for you.
An FIA gives you protection from market losses and growth potential based on a market index (like the S&P 500®) — without the risk of actually participating in the market.
How downside protection and growth potential work together
To illustrate performance in both up and down market conditions, this example shows $100,000 in premium in an accumulation-focused FIA compared to what would happen to $100,000 invested in the S&P 500®
S&P 500® Index Fixed Indexed Annuity
Scroll on the graph to zoom in and out. Drag left or right to pan the graph

This graph assumes no fees, charges or withdrawals are taken during this period. Index performance is not indicative of future results. The index does not reflect dividends paid on underlying stocks.

The hypothetical performance of an FIA assumes a $100,000 premium and a one-year point-to-point crediting method. The example rates may not reflect rates currently available.

This hypothetical example is for illustrative purposes only and not intended to be the performance of any specific product.

Calendar year returns as of December 31, 2021.
"If I buy an annuity, I don't have access to my money."

Many annuities allow for penalty-free withdrawals and amounts in excess of the penalty-free amount may be subject to surrender charges. Many F&G annuities include riders, at no additional charge, that give you penalty-free access to 100% of your money if you meet certain conditions in regards to terminal illness or nursing home or home health care. These liquidity features may vary by state. Talk with your independent producer for availability.
"When I die, the insurance company keeps my remaining money."

Fixed and fixed indexed annuities that haven't been annuitized have surrender charges waived if the annuitant dies. Any remaining account value is passed to the beneficiaries you named and usually avoids probate.
"I have to pay the insurance agent out of my own pocket in order to buy an annuity."

You are not required to pay the insurance agent directly in order to buy an annuity. Your full premium is available to potentially earn interest from the annuity's effective date. F&G products are only offered through our licensed insurance producers, who are compensated through commissions which are not deducted from the premium paid for the policy. To find a licensed producer in your area, fill out this form.
"Annuities carry hidden fees."

Depending on the type of annuity you purchase (immediate, fixed or fixed indexed), your policy could have no charges. But some annuities do have surrender charges on withdrawals taken during your surrender charge period. Some plans may offer options to take a portion surrender-penalty free. Plus, some fixed indexed annuities have additional fees with optional riders for guaranteed lifetime income, a specific growth rate, wealth transfer and healthcare. These features provide more benefits and can add more value to your policy.
"Annuities are complicated."

Annuities with a guaranteed lifetime withdraw benefit work similar to Social Security or a pension. It can guarantee you a lifetime stream of income, subject to certain conditions and assuming no excess withdrawals are taken.
"Annuities are tied to the stock market, so I could lose my money."

With a fixed indexed annuity, your money is not invested in the market, but it provides the potential to earn interest linked to an index. So your account value will never be credited less than zero if the index decreases. Plus your account value can grow if the index increases.
Talk to a Financial & Insurance Professional
We'll collaborate, co-create and act as partners in your prosperity.
I'm Ready