Skip to main content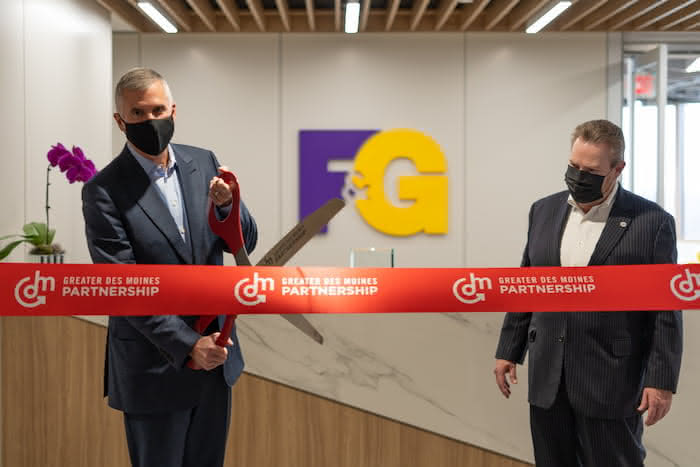 F&G Celebrates Ribbon Cutting at New Headquarters in Des Moines
Des Moines, Iowa – December 14, 2020 – F&G, a leading provider of annuities and life insurance, recently celebrated the virtual ribbon cutting of its new headquarters in the 801 Grand office building in downtown Des Moines. Honoring the firm's continued growth and track record of job creation in the region over the last year, the Greater Des Moines Partnership also presented F&G with the 2020 Economic Impact Award for its contributions to the city.
The move from F&G's previous location at Two Ruan Center was necessary to accommodate the firm's substantial growth in 2020. F&G is on track to reach 175 new hires by the end of the year. The growth comes as sales continue to rise above industry averages.
"We are motivated by our strong business results in 2020, and we're looking forward to welcoming our employees to our new space when it's safe to do so," said Chris Blunt, CEO at F&G. "Our company's collaborative culture has been brought to the fore throughout COVID, which has been critical to power our continued growth during this volatile time. F&G is committed to recruiting and retaining top talent, and we are thoughtfully and carefully planning our return-to-work strategy and focusing on the health and wellness of our employees."
The new space of over 80,000 square feet will double F&G's office space and allow the firm to creatively rethink how employees will interact and collaborate with each other. To accommodate the increase of new hires, 801 Grand features 500 workstations with dozens of conference and focus rooms. The new headquarters allow for COVID-19 considerations, such as easy-to-clean workstations and glass dividing panels to increase wall heights, plus common areas with no fabrics and multiple hand sanitizing stations located strategically throughout the space.
F&G Honored for Economic Impact
To celebrate the new location and F&G's growing presence in the Des Moines community, the Greater Des Moines Partnership was on hand to present F&G with the 2020 Economic Impact Award. The award recognizes local companies for their contributions that positively impact the economic life of Des Moines, including job creation, facility expansion and capital investment.
F&G's 2020 growth has been fueled by multiple factors from increased ratings by multiple ratings agencies to expansion into new distribution channels — such as banks and broker dealers, including Raymond James. Now a topfive carrier in fixed index annuity sales, the Wink Sales and Market Report for Q3 2020 also cited F&G as having the largest life sales increase of any carrier in Q3 at 48% from 2019.
About F&G
F&G is part of the FNF family of companies. F&G is committed to helping Americans turn their aspirations into reality. F&G is a leading provider of annuity and life insurance products and is headquartered in Des Moines, Iowa. For more information, please visit fglife.com.
"F&G" is the marketing name for Fidelity & Guaranty Life Insurance Company issuing insurance in the United States outside of New York. Life insurance and annuities issued by Fidelity & Guaranty Life Insurance Company, Des Moines, IA.
21-0702